It seems like we are losing many great names in fashion. First Andre Leon Talley and only a few days later Thierry Mugler. Thierry Mugler was a revolutionary French fashion designer known for bringing extravagant, over-the-top looks and power dressing during the 1980s. His extravagant runway shows are legendary, with Linda Evangelista, Iman, and Ivana Trump. Mugler has designed for celebrities like Kim Kardashian, Beyonce, and Cardi B. Many designers such as Rick Owens and Alexander McQueen have used Mugler as a source of inspiration. Yet beyond the fashion world, he is not as widely known as other high-end name brands. This is why I have decided to dedicate a post to this "An exceptionally talented, visionary and inclusive genius," as Sandrine Groslier (Global president of Mugler Fashion & Fragrance) dubbed him.
"Dance showed me that there are no limits I never say I'm a fashion designer. I've always felt like a director, and the clothes I did were a direction of the every day."

Thierry Mugler
Mugler was born on Dec. 21, 1948, in Strasbourg, France as Manfred Thierry Mugler. He actually got his start in dance, joining the Ballet du Rhin, which would become a major inspiration for his designs later on. After formally studying at the Strasbourg School of Decorative Arts, he moved to Paris at age 20. In Paris, he gained inspiration from the '40s and '50s styles and designers such as Cristobal Balenciaga and Christian Dior. He then moved to London in 1974, where he started a fashion label contributing to the Swinging '60s look of the trendy boutiques. "It was creative, inventive, and fun, and above all, it was a real social scene. On Saturday afternoons, all the young people strutted down King's Road in incredible outfits," he said in a WWD interview.
"I wasn't sure what I wanted to do, but fashion took off for me very quickly in Paris, as soon as I showed my sketches," he recalled. "Back then, fashion was in full folklore mode. Kenzo was all the rage, so you had Peruvian influences, Indian influences and what have you. It was all very folkloric, and all I wanted to do was this very pure, Parisian silhouette: the little black suit, the trenchcoat, the black dress, the siren dress. I did the first nude body-conscious dress. Nobody was doing nude at that time. My first ready-to-wear line was called Café de Paris, and it was all about a very precise, streamlined silhouette, very strongly influenced by dance."

Thierry Mugler
In 1973 Mugler returned to Paris and launched his first collection. He called it 'Café de Paris,' which was picked up by Harrods. This first collection played on the popular wide-shouldered silhouettes but added a youthful, urban twist. In 1978 he opened his first boutique in Paris and worked throughout the 80s to build his empire. Mugler was considered to be ahead of his time and transformed ordinary women and supermodels. He had many supermodel and celebrity supporters, including Cindy Crawford, Naomi Campbell, George Michael Dinna Ross, Jerry Hall, and even RuPaul. He created whimsically and erotic (as he was often inspired by dance, burlesque, and dominatrixes) clothing fantasies – and women regularly became space-age vixens in his designs. In the 1990s, Mugler was sold across the globe from Browns in London to Saks on Fifth Avenue. In 1992 he created his first-ever haute couture collection as per the request of France's Chambre Syndicale de la Haute Couture. In 1992 he designed the clothes for George Micheal's "Too Funky" music video, which the New York Times described as a "televised Mugler Show." In the video, supermodel Linda Evangelista was done up on camera like a space-age Cruella De Vil, wearing a peroxide blond wig and dripping in fur. Another model strode out in a metal Harley-Davidson-inspired bustier with actual motorcycle handles sticking out of each side of the waist, rearview mirrors attached to the breasts, and a headlight in the center. (NY Times) He also expanded his brand into beauty in 1992, with ever-growing lines of men's and women's fragrances (Angel, Alien, A*Men, and Aura ). Naomi Watts and Eva Mendes were among the celebs who served as faces of the campaigns.
"Beyond being a creator with infinite energy and a boundless sense of creativity, I wish above all to pay tribute to the sensitive, generous and sincere man."

Thierry Mugler
The designer combined science fiction elements with the popular cuts and shapes of the time – broad shoulders and modish cinched waists of the 1980s being given at Mugler twist" by pushing the boundaries of clothing construction by working with materials like latex, fabric resembling scales, metal, and feathers. Mugler's favorite silhouette was an inverted triangle characterized by giant shoulders and a nipped waist. Mugler was one of the first designers to open the doors of a fashion show to public members, with a massive event at the Zenith concert venue in 1984. Among those who modeled in his shows were Grace Jones, the drag-performing torch singer Joey Arias, and Ivana Trump. Many in the fashion world would know his iconic 1995 haute couture show, held for the label's 20th anniversary at the CirqueD'Hiverr in Paris, which was rumored to cost about $2 million. Models including Naomi Campbell, Jerry Hall, and Kate Moss walked the runway, along with actress and muse Tippi Hedren in a dress inspired by her role in The Birds. A performance by James Brown ended the show. Model Violeta Sanchez, who was among the models who showcased 300 looks, called it "the Woodstock of fashion"
"I don't believe in natural fashion Let's go for it! The corset. The push-up bra. Everything! If we do it, let's do the whole number."

Thierry Mugler
Mugler'sembrace of gay iconography (and his own sexuality) overshadowed his spectacular desiges, marginalizing him at a time when the AIDS epidemic was at its peak. Paul Cavaco, who was a fashion director of Harper's Bazaar during Mr. Mugler's heyday said "The outwardness of designers embracing being gay wasn't then a thing, people knew but you didn't really talk about it. It was considered not chic. And here he was sending drag queens like Lypsinka down the runway. So even at Bazaar, which at the time was arguably the most adventurous American fashion magazine, Mr. Mugler's clothes were largely passed over" Mugler retired from fashion in 2002; he stepped back from the industry to focus on fragrances and costume design, reverting to his birth name Manfred. Later in life, Mugler suffered a series of accidents that permanently changed the look of his face. He "destroyed" his nose in a Jeep crash, as he said in an interview, and had bone from his hip put into his chin after a motorcycle accident. This made him want to work on his body through bodybuilding and plastic surgery. In 2003, he served as the creator of Zumanity, a cirque du Soleil show in Las Vegas that featured fire-breathing dominatrixes, drag performers like Raven O and Mr. Arias, and musclebound men clad only in their underwear writhing on top of one another. Beyoncé wore the old Mugler motorcycle bustier on the cover of her 2009 album""I Am … Sasha Fierce and then hired Mugler to design the costumes for her "I AM" World Tour.
"The opposite of good taste is safe."

Thierry Mugler
He relaunched his ready-to-wear brand in 2010 as Mugler with Niccola Formichetti at the helm. He now had a new generation of pop stars and designers to inspire him and new celebrities to design for. In 2019, he dressed Kim Kardashian for the Met Gala in that wet-look piece. He dressed Cardi B in three archival looks for the Grammys. Most notable was her red carpet look in the famous "Venus dress." a flesh-toned Mugler bodice, with sequins across her chest and a blooming skirt that shot up from behind her. In 2019, Mugler joined forces with choreographer Wayne McGregor (left) to direct something he'd dreamed of: a dance-fashion fusion presentation called McGregor and Mugler at The London Coliseum.
"I am not trendy. I am not 'in fashion.' I am simply a positive human being who has a positive outlook on life."

Thierry Mugler
The designer was also the subject of a major retrospective exhibition, Thierry Mugler: Couturissime, at Paris' Musée des Arts Décoratifs. The exhibition groups around 150 garments made between 1977 and 2014, along with a wealth of photographs from one of the seminal image-makers of the the'80ss, who reinvented the fashion show as Broadway-style spectacles starring the likes of Diana Ross and Jerry Hall. (New York Times.)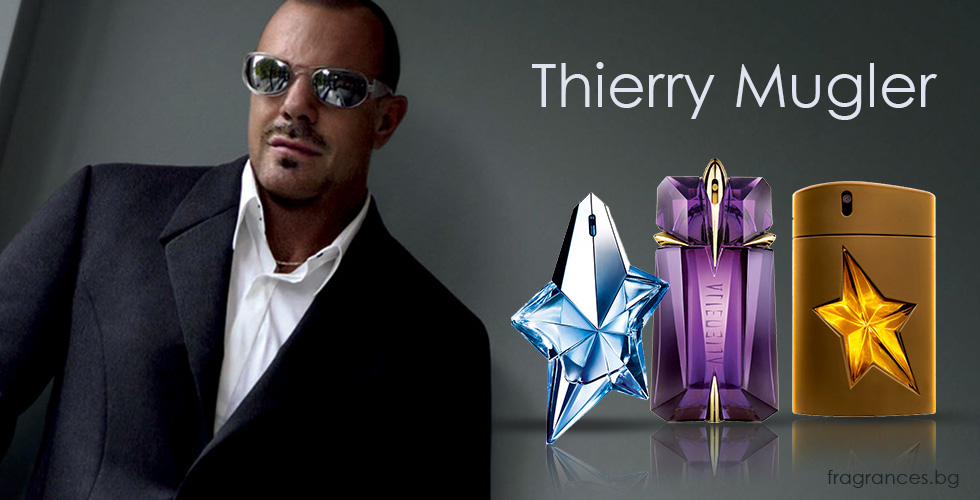 Today Mugler is a fashion label enjoyed by red carpet celebrities and pop stars alike. The Mugler brand is also newly committed to sustainability with their fragrance brand's "refill experience" Mugler sells refill bottles that one can use at home to refill their perfume bottles (made of 20% recycled glass.) Or customers can refill their bottles in any Mugler store with the Mugler perfume fountain.
Sandrine Groslier, global brand president Mugler fashion and fragrances, worked alongside Mugler for 27 years, called him a "genius jack-of-all-trades" who marked the world of fashion and beauty forever. She wrote on Instagram "He was funny, passionate, crazy at times, and he always knew how to pay tribute with a lot of emotion to all women. You have reached the stars. Rest in peace, Mr. Mugler"
Let me know if you want more posts about designers or fashion History!
Ciao!
Cristina
Sources (Also good articles to read)
https://www.bbc.com/news/world-europe-60107017
https://wwd.com/fashion-news/fashion-features/french-fashion-designer-manfred-thierry-mugler-dies-1235049437/
https://www.elle.com/uk/fashion/trends/a26287890/thierry-muglers-everlasting-impact-on-fashion/